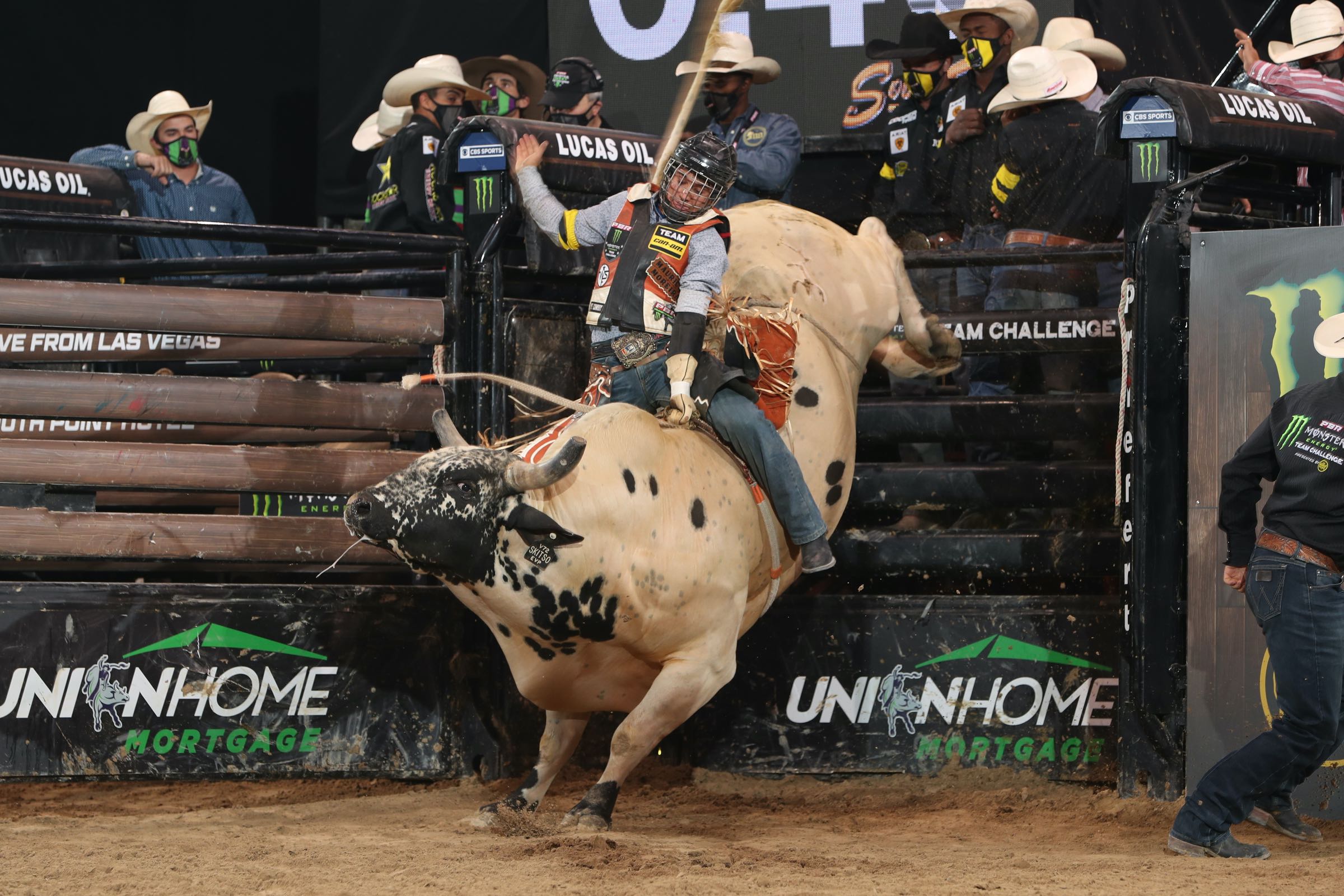 All images are courtesy Andy Watson/Bull Stock Media.
PBR Stock contractor JW Hart, is all heart…and soul; pouring energy and passion into insuring the bucking bulls he raises on his Hart Cattle Company ranch in Marietta, Oklahoma are well cared for, high quality, and…rank buckers. Right on the heels of a high-powered weekend at the PBR Monster Energy Team Challenge in Las Vegas, Nevada June 12, 13, 14 where he hauled bulls he's in partnership with TNT Bucking Bulls, David Hale, Randy Wood, Ogden Ranch and Mick Plummer, Hart is giving the bulls a weekend off at the Oklahoma ranch. Hart started the herd in 1995 and has developed the partnerships in the past three years. "My partners love the bulls like we do," Hart shared.
Livestockwx.com's Amy Hadachek talked with JW Hart early Tuesday evening, June 16th. One of his favorites is Armed and Dangerous, although that bull was actually one of the few that managed to buck off the number one bull rider in the world; Jose Vitor Leme in just under two seconds, this past weekend in at the PBR Team Challenge at the Let 'Er Buck Saloon at South Point Arena in Las Vegas. Otherwise, Jose Vitor Leme had largely stellar performances. "I'm glad it didn't hurt Jose, but that's the kind of performance we like to see in our bulls," said Hart, adding, "Armed and Dangerous is one of my favorites. I was pleased. Another favorite is Pontotoc, who got three trips out there (including bucking off Derek Kolbaba.) Other Hart partnership bulls at the PBR Team Challenge were Dynamite Cap ridden by Mason Taylor for an 88.00 score, and Paint the Town ridden by Jordan Spears.
Note: click or mouse over all the graphics in this article to get more information
JW Hart won the PBR World Finals in 2002. When we asked him Tuesday, June 16th, 2020 how many years he rode bulls?… "Too damn long…" responded Hart, "Professionally 18 years." Hart prefers stock contracting. "I don't get near as nervous now, at bull riding time…" said Hart. Hart Cattle Company and partners have impressively built up their program. "We started out with one small 30-foot gooseneck and hauling 10 bulls. Now, besides quality, we've been honing in on getting our numbers up. With our partners, we have two semis and can haul 40 deep (our big line-up), although all total we have 150 bulls. But we have 40 that Cody Lambert (former professional bull rider and a co-founder and Vice President of the PBR) will let us take," said Hart.
As a livestock and weather website, Livestockwx.com also talked with Hart; about the Las Vegas heat and gusty winds during that PBR weekend. "We had two days that it was 104-108 degrees, we had shade up, then the wind picked up (20mph gusting to 30mph) and we played merry go round with the shade tarps," said Hart. "We went and got sprinklers and kept it on the bulls. They probably didn't need all that, but I'd rather have it – and not need it, than not have it…and need it!" he exclaimed. "When the wind blew at 30 miles an hour, we wanted to keep dust out of their nose and eyes…which was blowing off the gravel parking lot. South Point (Hotel) ran water trucks to keep it all upwind of us," Hart said, adding, "People don't realize the care that these bucking bulls get…it's second to none."
The heat also 'cooked' their feed in the top of the semi-trailer. "The bulls are picky eaters. Luckily we had hay which filled the gap." At least the air was dry instead of being humid. The dewpoint (the measure of moisture content) was about 25-degrees much of the weekend. By 11:00pm Saturday, wind gusts diminished down to 14 mph.

Inside the saloon, the all-in sweat equity combined with a uniquely gallant team spirit produced two action packed nights of bull riding followed by a Sunday morning round in the Las Vegas spotlight culminating in three teams clinching the Division A bracket during the second weekend of PBR's Monster Energy Team Challenge presented by U.S. Border Patrol; Friday and Saturday nights; June 12, 13, followed by Sunday morning; June 14. A dominant 6-0 record catapulted Team Cooper Tires to seize the number one team slot, while outscoring their opponents 1535.25-430.25.
First to clinch the Division A title Saturday evening; June 13th, Team Cooper Tires beat Team Las Vegas with a 259-0 shut-out victory at Las Vegas. Despite the loss, Team Las Vegas finished divisional action number two with a 4-2 record; and will also advance to the playoffs.
Team Challenge Division A: Rider Stats Through Week 2
Number-three Team Can-Am managed to accomplish a jaw-dropping 0.75-point victory against Team Union Home Mortgage, with a 173.50 to 172.75 finish. So, the three advancing teams are Team Cooper Tires, Team Las Vegas and Team Can-Am, who all head to the PBR Team playoffs, to compete against the three advancing teams from Division B. Competition begins Friday, June 19. Division B has its own games before advancing to the playoffs to join the Division A teams.
Each Sunday in June, the third game of the broadcast is the 'Game of the Week,' when the telecast moves from CBS Sports Network to CBS. The top three teams from each division will compete in July before fans in Sioux Falls, South Dakota at the Denny Sanford PREMIER Center.
Although each bull rider competes for the MVP slot, a key concept in June is the team plan, which includes four riders on each team in a bracket-style competition…and fast becoming a robust concept. "I like that the guys get to trust and depend on each other's performance. It's not anything like we're used to in our sport," said Hart.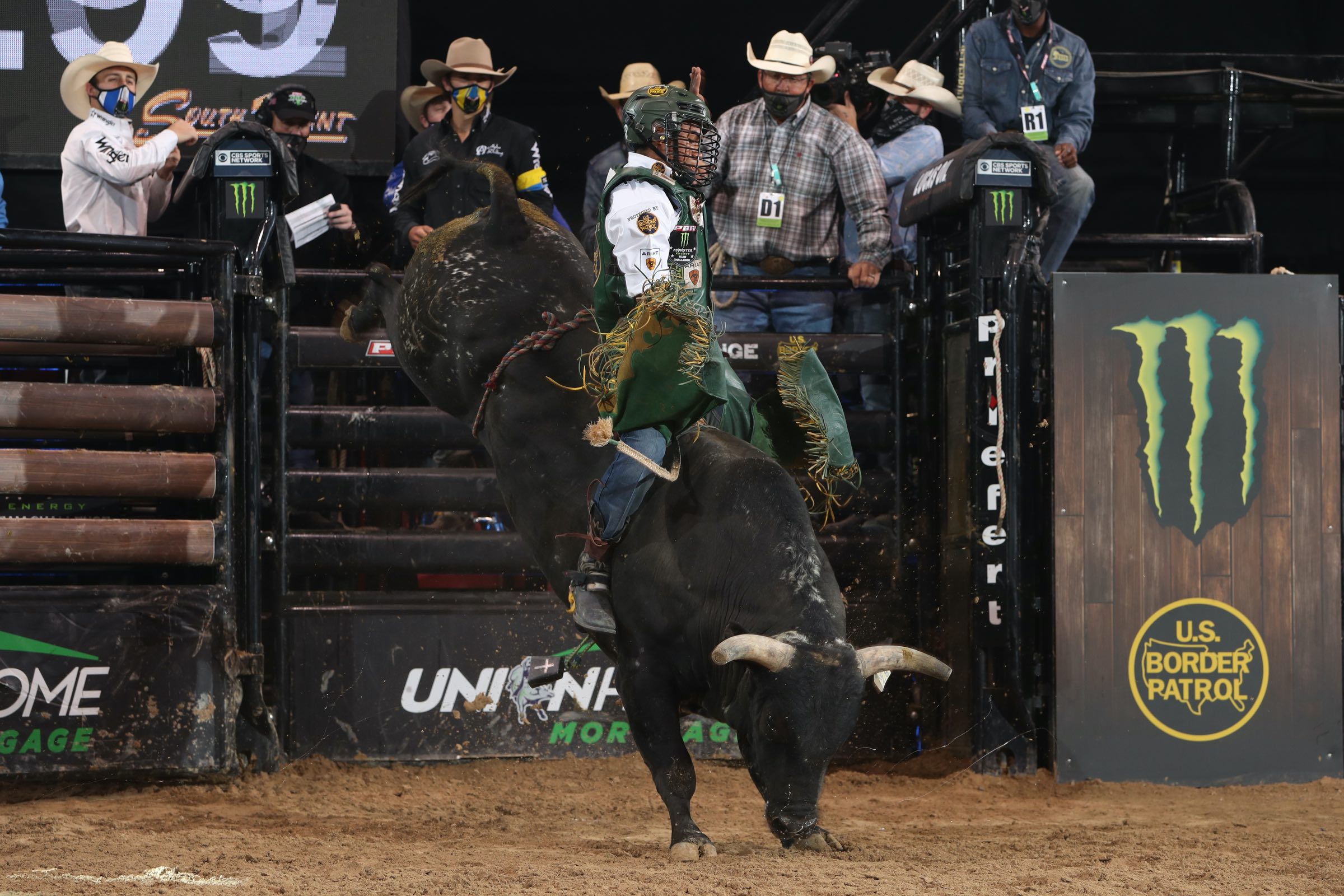 LivestockWx.com also asked nine-time PBR Stock Contractor of the Year Chad Berger; (in his partnership with Dakota Rodeo/Berger/Struve/Heald Pro Bulls) about the team idea. "It was made for people who don't understand the sport…it has a lot of lights…I thought if we get the people who watch who normally don't and see the team concept – it might help the sport in the long run. It has to have a shorter set of teams otherwise you spread out too much talent," said Berger, adding, "It's all a trial by error. Rome wasn't built in a day, and as you learn by your mistakes, you get it all tuned up." Several bull riders agree, it's been a game-changer at this time.
"All of us really bought into the team format, and it has been great," said bull rider Sage Kimzey on CBS Sports Network, after his Team Cooper Tires clinched the Division A title. After getting bucked off, and appreciating the bullfighters warding off the bull still bucking nearby, bull rider Silvano Alves of Team Union Home Mortgage told CBS, "I thank God, and I thank Mason (Taylor) for his help." Even CBS Announcer/2-time PBR World Champion bull rider Justin McBride exclaimed, "These young rodeo guys are excited to be here." The energy was contagious, as Derek Kolbaba rode Acting Crazy to the eight second buzzer earning an 88.25 and energizing his Team Yeti.
Bullfighters/the grounds crew did a stellar job; keeping bull riders safe. When Colten Jesse of Team Wrangler wowed the 'live' audience while riding 'Short Pop' to an 89.00 point ride, the energy from just watching his ride, went through the roof.
Team Challenge Division A: Week 1 & 2 Bull Stats
After nine qualified rides, world number one bull rider Jose Vitor Leme is still on top…and appreciative. "I'm grateful to God," he told CBS. "We rode a lot of bulls." As McBride shared on CBS, "Cody Lambert always tells the young guys, 'All it takes…is all you've got.'
Rides to Remember from Week 2
Keyshawn Whitehorse's million dollar smile lit up the saloon after his powerful ride brought 86.75 on the bull Bring the Heat.
Stetson Lawrence had a great 86.25 ride on Smokin Gun
Marcus Mast had an eye-opening 86.50 on Bubba G, one of the top PBR bulls.