The PBR's Last Cowboy Standing at the renowned Cheyenne Frontier Days saw amazing cowboys and also some amazing bull power. After the event, LivestockWx.com talked with Chad Berger of Chad Berger Bucking Bulls about what went down in Cheyenne. It was a big two days for Chase Outlaw who won the Last Cowboy Standing with a 90.5 ride on the bull Rising Sun.
It was also a big event for Rising Sun's owner; 8-time 'PBR Stock Contractor of the Year' Chad Berger, who was glad his bulls made it through this El Niño's crazy muddy spring. Coming off the great week at Cheyenne, Wyoming…Berger is thrilled that Rising Sun gave Outlaw – a great ride, and also that another one of his bulls bucked into the exciting spotlight. But it was another one of Berger's bulls, Smooth Wreck, that stole the show on the bull side, helping Outlaw score a 93.5 in Round 2, setting him up for the eventual win. Winning at Cheyenne…is vital.
"It's real vital. Not only did Chase Outlaw go to #1, so did Smooth Wreck; our bull; he went to #1. It was a great event for us," Berger told LivestockWx.com It was also very cool for the TV audience; to hear Chase Outlaw publicly thank Berger for producing such great bulls.
PBR Cowboy Lucas Divino; who got second at 'Last Cowboy Standing' also got on one of Berger's bulls; South Texas Gangster, but that bull bucked him off in the Round 4. Berger knows all about the herculean task of dealing with roughstock at bull ridings and down on the ranch, but then – add in the bizarre 2019 El Niño frigid winter and muddy spring, and the word 'rough' takes on a whole new meaning.
Thankfully, Berger has set-up partnerships and also 'winters' his bulls in climates that are warmer than North Dakota. He owns South Texas Gangster with Clay Struve/and Julie Rosen. 345 Rising Sun is owned by Berger/Struve/Heald, which includes Chad Berger Bucking Bulls, along with Clay Struve, and Mike and Christina Heald. Berger also owns both Smooth Wreck and Diamond Willow with Struve. These partnerships enable Berger-to keep his bulls all winter near Henryetta, Oklahoma. This past bizarre El Niño winter and early spring had an impact on their bulls; even down in Oklahoma. The issue wasn't snow or ice in Oklahoma, but it was…the mud.
"The bulls are fine now, and we didn't have floods, but in March we were muddy all winter in Oklahoma. You just keep trying to keep the pens clean as they can…so they can get out of the mud and exercise," Berger relayed. "We didn't have the bulls til May in North Dakota and then it was muddy up there and the bulls had to deal with that, but it's fine now."
Berger likes to 'winter' his bulls in Oklahoma, because North Dakota is simply too cold. "It gets too cold up North…and the ground freezes, but in Oklahoma – the ground never freezes, and they can stay in better shape. Cool in the summer…warm in the winter…they go back to North Dakota in May. Then, in October, they'll be moving down near Henryetta."
Berger's bucking bulls' breeds are what he calls 'cross stuff…a lot of Brahma and Longhorn." As far as the question if he sells…"I don't sell. I like to own good bulls." Berger's 'Top 3' most famous bulls? "The ones going right now: Smooth Wreck, Smooth Operator and Legit."
And, the PBR's most famous cowboy now? Chase Outlaw is truly a 'comeback kid' after a nine-month recovery rebuilding his facial bones following a horrific bull riding accident last year. But this summer, the healed and re-energized Outlaw shined brightly in the 'Last Cowboy Standing' during an emotional, highly charged successful ride to a packed crowd elated to see Outlaw buck to the 8-second mark.
For those in the area covered by the Grass-Cast Outlook and would like to see how likely your county could see average or above-average precipitation this summer we have provided the County Precipitation Analysis Tool below. To do the analysis similar to the example, choose your state and county. For the month choose August and for the number of months choose 3-months. That will show a frequency distribution of precipitation from June-July-August for your county from 1895 to present.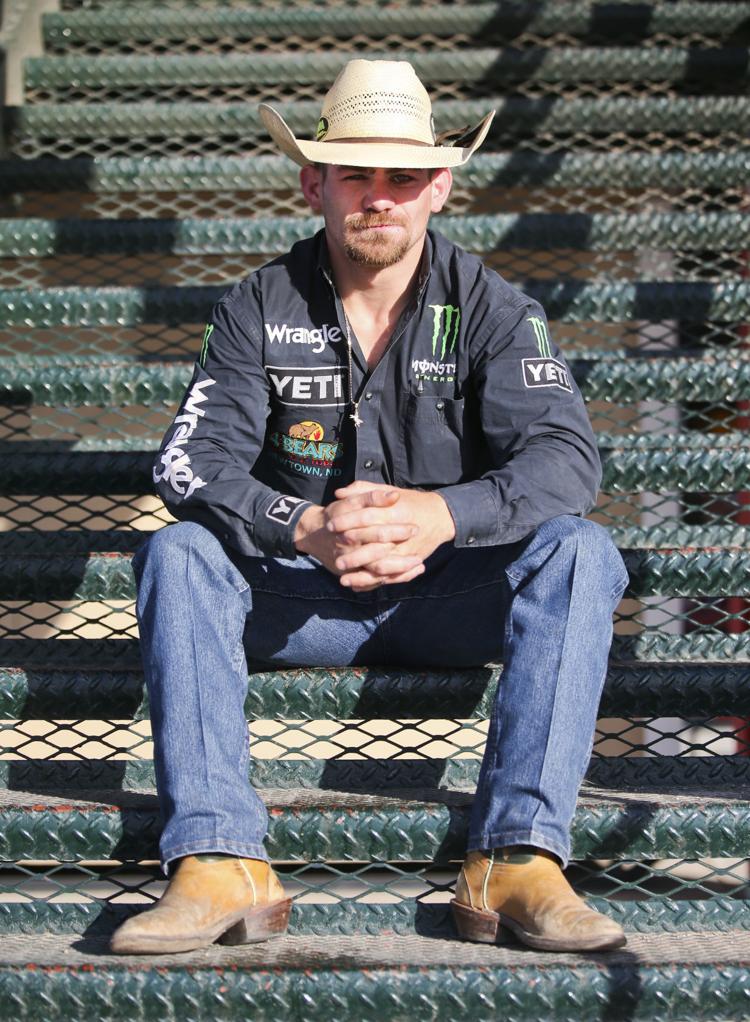 "PBR's debut at Cheyenne Frontier Days was a smashing success. The grandstands were packed and as energetic as any crowd I have seen at any Western sports event, anywhere. Chase Outlaw's dramatic win at Last Cowboy Standing in an arena where his career almost ended one year ago is one of the best stories in sports this year. Fans were going wild," said Sean Gleason, PBR Chief Executive Officer, adding, "PBR is thrilled to help boost Monday and Tuesday within the Daddy of 'em all."
Berger is also feeling good about how his bulls did, and the riders on his bulls at Cheyenne – these past few days. "They all ran at the top of their game and I was really proud of them." Being named 'Stock Contractor of the Year' eight different times at the PBR (2014 through 2018, and in 2007, 2008 and 2009)….Berger appreciates that support. "It's whoever has the best set of bulls in the world. The bull riders vote on it, at the end of each season."
Chad Berger Bucking Bulls became incorporated in 2003. "We were also bucking bulls before then," said Berger, who got started with his father. Berger's team is comprised of his family; with wife Sarah, and their children Lacey & husband JR Scott, John and Sadie actively involved. Others vital to their bucking bull business…"Delbert Nose and Rex Meier are my full-time bull hauler and handlers. Juan Gonzalez takes care of my bulls, cattle and feedlot. They're very vital, and without them – we wouldn't have anything."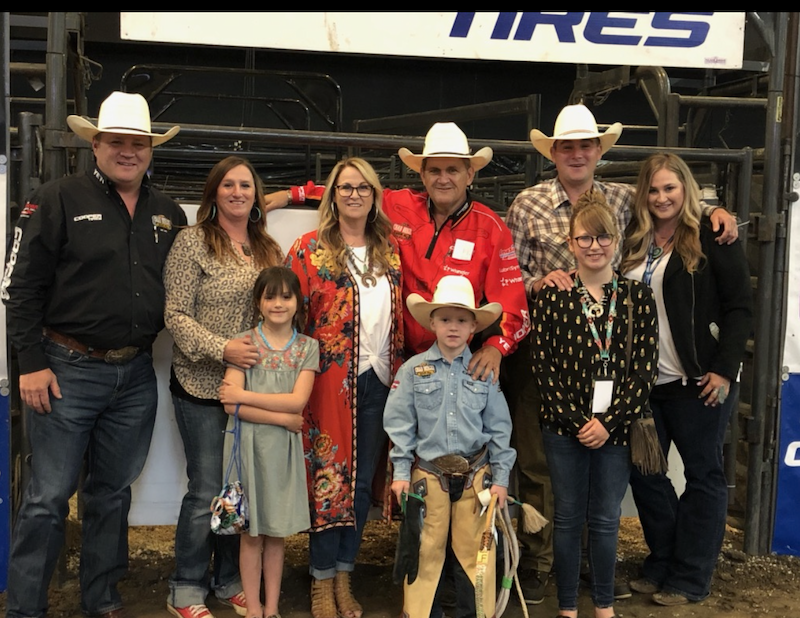 With the possibility of another El Niño next winter, too…Berger responded, "I hope not." As far as the next step for Berger and their prize bulls…"I'm just going to keep doing what I've been doing…work hard."
To view Chase Outlaw's World Championship ride at Cheyenne, July 23, 2019: https://www.youtube.com/watch?v=a_p4oXCvGT4